Whenever I start a new project, in this case (and most cases,) a jacket, I must admit that I usually start working with someone – a specific person in mind. I meet a lot of people on a daily basis, and I'm also lucky enough to have a lot of friends with really unique styles from which to draw inspiration. It usually happens instantly and out of nowhere and it never leaves my head until I leave the sketchpad and move to the sewing room. This is where the seamstress/designer keeps all of her secrets and mysteries, not always enclosing the name of the figure who inspired the garments in her collection. There are times, of course when I make clothes on commission for people, in which case obviously the garment is inspired by them. Trying to describe the process is like a painter describing how they chose which colour to go in which spot on their canvas, or a musician, which notes sounded best where.
Right at this very moment, I have four jackets in my mind that I want to make over the next month – two men's, two women's. I've been working on sketches of these projects for 3 weeks, and continue to develop my ideas every day as I walk around the city, observing the choices of outer-wear that Torontonians adorn. In some of my previous blogs, I've discussed actually having to stop on the street, on the subway, or streetcar to really look at someone far away because the image they've achieved with their personal style is so stunning to me that I must make note of it. I'm not a photographer, but I maintain the ability to describe beauty in its many, strange forms.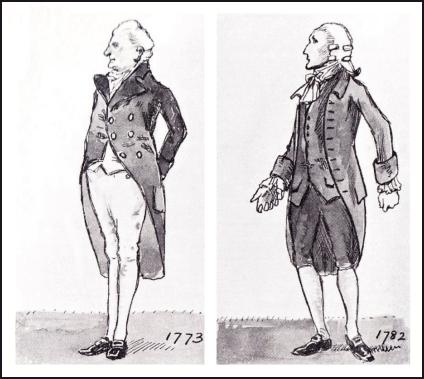 The first man's jacket I'll be working on was half inspired by a photograph from a Vogue that I cut out and used for a photo-collage in my bedroom, and half by an anonymous person, an artist, who I hardly see ever, but who always interests me on a creative level when I do. And what I've realized since I initially started working on the piece, is that the previous description could be applicable to a lot of the men I know, suiting their styles perfectly each in their own individual way. That's what I want to achieve with this jacket - a sense of individuality, which can be applied to any style. It'll be a navy blue, slim-fitted blazer, with classic patch pockets and one inside breast pocket and one outside breast pocket. The unique thing that will be about this jacket is that I wanted it to be longer than a normal blazer. Not too long, just a couple of inches, to give it a slightly more dressy look than one that cuts at the waist. I think it has to be the next one I work on, just because it's been floating in my head for some time now and I'm starting to feel like it's a real thing. Fabric-search-time. Give me a week. Less.
The first woman's jacket I want to work on is going to be a re-make of an old Petey the Troll coat from winter 2009. I've decided I want to use some of the fabrics from the old left over stuff, because quite frankly, I'm a much better seamstress/designer now than I was then (ya know, design school n shit) and I could use the beautiful materials I used before for more beautiful garments. You dig? We have pictures anyways, I'm not sentimental. ;) The new jacket is going to be a mix of mustard yellow corduroy, and brown printed drapery fabric, using grey buttons, and burgundy gathered lace at the cuffs and pockets, just for a touch of history. It'll be the most colourful piece I've worked on in months, actually, and I'm really excited to get going on tearing the old stuff apart. Someone once said an artist cannot grow unless they understand both creation as well as destruction. I tend to agree.
The second man's jacket I'll be working on is the least finished, in terms of design, of the four I plan to begin working on immediately. Again, this piece was inspired almost directly by a friend of mine who also has a very unique personal style, that which reflects his personality very well, in my opinion. The idea originally came from a jacket he pointed out to me on a woman, featuring both leather as a base fabric, as well as thick knitted wool around the cuffs, the collar, and at the waist. What has kept me interested in this piece has less to do with this interested combination of materials, and more the transformation of it from a woman's jacket to a man's, and thinking about what the key differences are between the two in a case such as this wherein the piece itself is practically ambiguous in style. So I'm still working on it, but expect some sketches and further discussion on this topic in coming posts. :)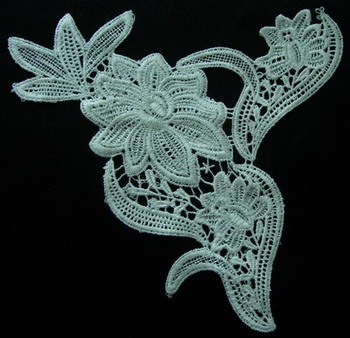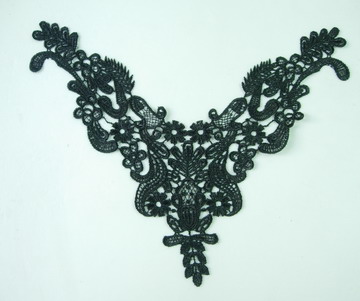 The last coat and the second woman's coat is one which will mirror the first man's jacket I created months ago for an inspired by one of my old co-workers. He challenged me to use lace, a favourite material of both mine and his, on a man's jacket while maintaining the solemnity and masculinity of the jacket itself. What I came up with, as you might recall is a grey, Italian wool jacket with black lace, 1 1/2" thick lining the two front seams under the arms and on the inside of the collar and the cuffs at the sleeves. We agreed it was a success and I was further inspired to use lace on more of my garments as appliques, rather than frou frou. Therefore my next woman's jacket is going to be cream coloured wool, to accentuate the brighter coloured lace, with fold-over pockets, which I've been meaning to include on something for months, fitted, straight cut with a 4" flare at the waist. The front closure will not be double breasted, but will be asymmetrical still, leaving lots of room for the lace applique on the top right corner, in a colour I've yet to decide on. This one is going to be a special one for me, I can feel it already. And do I have someone in mind that I've based the design off of? Of course I do. It's a friend, who I don't know terribly well, but who's smile I love to see as it has the ability to defuse any awkward situation and light up any room. She's got such confidence and pride in herself that it is truly unique and makes me want to dress her up in beautiful things to accentuate those aspects about her that I admire so much.
So that's kind of what I'm working on right now, and hope to be finished with by the end of January so I can move on to more projects such as the further development of my work on the wedding dresses and bridesmaids dresses I'm working on and some art-clothing in the Spring. :)