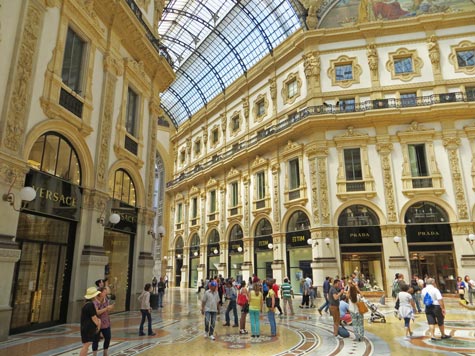 Hey there, I've been making a real effort to see all of the high profile shows this season within a few hours of them happening. The internet is pretty amazing that way. This is Part II of my reviews of my favorite designer collections this season at Milan Fashion Week.

When I first took a look at the Prada collection this season, I was rather shocked
at how dissimilar it was to Miuccia Prada's usual sense of style as a designer. I have to admit that I was rather critical of the collection, citing that it was "not Prada enough," lacking the curvaceous, femininity of the Prada silhouette. However, I stood correctly once I learned of Ms. Prada's concept behind the collection of box shaped, geometric, Mondrian inspired pieces. What Prada was attempting to do was explore the idea of womanhood in 2011. The majority of the pieces could very acutely be placed in both 1920s and 1960s fashion spreads, with their dropped waists and straight form lines. Both of the previously mentioned decades were times of great change and growth for woman as a whole, and Prada wanted to nod to this idea of the ever evolving societal view of femininity in fashion. Even with a
high luxury brand like Prada.
And surprise surprise!! Versace's show featured oversized geometric prints and box shaped garments with dropped waists!! I must admit though, Donatella always knows how to spin a trend to make it quintessentially Versace. She's used bright, bold colours similar to the rest of the season to date, but the prints are much more subtle than say… Carolina Herrera's line in New York. She'll put a shoulder-sized baroque curlicues, (once a signature symbol of the label) in bright yellow on a black dress, or she'll synch a straight waist together with a belt and an oversized geometric buckle. Then the leather numbers came. I was so afraid that the entire collection would be the same as all the rest, which is fab, but getting tired quickly, for someone who has been watching all of the high profile shows to date this season. The leather was stunning. I loved each one, and though I don't normally consider myself a Versace girl, I would rock the hell out of one of these outfits. ;)
Last but not least for my Milan Fashion Week highlights is the one and only Dolce and Gabbana, one I've been eagerly awaiting as a loyal fan. The show opens with a female model is a little boyish outfit wearing a cap with her hands in her pocket. Hmm… I do believe I detect a hint that the designers were going to be stressing androgyny in this collection?? Well indeed, that was the case and the clothes represent two wonderful things to me. Firstly, we have lots of collared shirts and sweaters, pleated pants and caps – in the real world, women love to dress like this. It's more comfortable, it's more acceptable these days, and it is just lovely to go out dressed like a boy, walking around like you're the man in charge. Admit it. Then there were the dresses. Some were oversized, billowy sheer fabrics, reminiscent of imagery associated with witches world-wide. :P Some, on the other hand, were the most beautifully built lace and metallic lame dresses. Always a spectacle with the Dolce and Gabbana shows.
To conclude, Milan fashion week is always a treat because there are so many spectacular Italian designers that no matter what there will be something beautiful to look at. I found that with this season's most reputable and intriguing designers, there has been a definite growth in the
conceptual aspect of the creating of a collection of clothing and the subsequent fashion show. Whether it's Prada's exploration of the female spirit or Donatella Versace's nod to her company's ancestry by having her show take place in the same venue her brother Gianni had years earlier. Leave it to the fabulous Italians to put the depth back into fashion design.
Until next week, when I review the first of my favourite collections from the most important city in the history of the fashion industry. I have never been so excited for Paris Fashion Week!!
Thanks for reading!